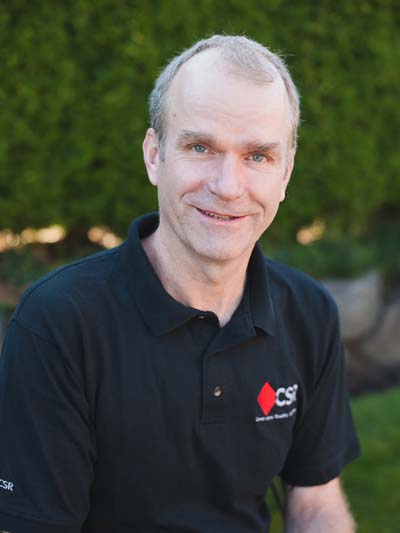 DAVE LUNDEEN
LEAD ESTIMATOR
As our Lead Residential Roofing Estimator at Cornerstone Roofing for more than thirteen years, Dave meets with prospective clients, listens to their roofing needs, assesses the roof, and makes recommendations based on their goals. Dave is certified as a CertainTeed Shingle Quality Specialist and CertainTeed Master Shingle Applicator Wizard.
Dave began in the roofing business while attending college, and brings 30 years of experience including roofer, foreman, and general manager of his own successful company, where he oversaw increased sales from $2 million a year to over $11 million a year.
Dave lives in the Lake Hills area of Bellevue with his two daughters. A native Minnesotan, Dave enjoys hiking, biking, skiing and golf, but his real passion is ice hockey.
"A smooth, professional process from start to finish. I contacted several roofers to request bids on a small roofing project. This was for a cottage that had a terribly aging (and leaking) roof.  Dave from Cornerstone responded immediately via email and scheduled a time to come out to look at the cottage within a couple of days. I was impressed with the thoroughness of Cornerstone's bid; the quality of the information; and even the presentation itself.  All the bids we received were very close to one another in price, making the choice to go with Cornerstone a slam-dunk. They scheduled a mutually-agreeable time to do the project and their crew came out and knocked the whole job out in one day.  The roof looks great and their clean-up was spectacular. Highly recommended!" – 5-Star Yelp Review.
"Many thanks to our estimator Dave for his timely estimate and willingness to go the extra length in checking out our attic. None of your competitors went the extra step. He made all the difference and his patience led us to choose you for the project."
"Thank you! When we first received our quote two years ago, our estimator Dave was very kind and I remember he fixed something for us in the attic. The thoughtfulness and compassion made us call you when we finally decided to do the roof. We are grateful!"
"We were impressed by the thorough examination of our roof by our estimator Dave and the informative roofing proposal brochures that were mailed to us. All of the roof replacement was completed as scheduled. Any questions we had were answered in a timely manner."