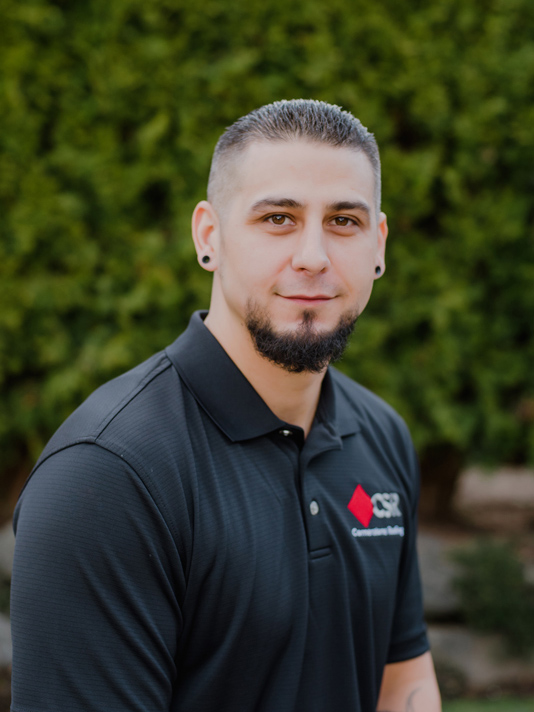 MICHAEL LITTLE
ESTIMATOR
Michael grew up in Lynnwood, and began working in his father's roofing business at the age of 17. His father and uncles all were roofers and Michael followed in their footsteps, learning the business, quite literally, from the ground up. Michael joined Cornerstone's Repair Division five years ago, and after demonstrating quiet leadership and a solid understanding of the business, was promoted to Repair Division Manager. Michael now estimates in our Re-Roof Division full time. 
Michael enjoys riding his Harley, doing home improvements and going on adventures with his family. Michael and his high school sweetheart recently celebrated 18 years together, and are proud parents to three amazing kiddos. They live outside of Lake Stevens where they enjoy the quiet countryside with their cat and chickens.
"A truly reliable, trustworthy company. I found this company online; was impressed by the outstanding review, and now I am firm that it lives up to the high rating. It started with a thorough inspection for this rather minor repair. Michael checked not only the points I found leaking but also the entire attic and roof to spot potential causes, and gave me a detailed explanation of his finding, and answered all my questions patiently. The quote was very competitive. We scheduled a time for repair, and there was a call 2 days before the date as a reminder. Repair day came; Sonny worked hard on the roof for hours. After it, all was cleaned up; I got photos of completed work – well done with attention to details; I was billed the same as quoted. The whole process was smooth and efficient, with clear and thoughtful communication. For a well-run company with high quality standards like this, I will look no further for my future roofing needs." – Lynnwood, WA, 5-Star Yelp Review.
"I highly recommend Cornerstone Roofing for their quality service — friendly, responsive, neat, and efficient. While getting ready to move during a heat wave, I realized how inadequate the ventilation options in my new home were. Neighbors recommended I contact Cornerstone Roofing to replace my fixed skylights with some that open. Cornerstone came out the next day to discuss my options. I also asked about a solar attic fan for the garage, and the estimator suggested a way to improve the intake venting there, as well. Although they were scheduling 3 weeks out, he said he'd try to squeeze me in, because he agreed, the house was extremely hot. A week later, he called to ask if they could come the next day! The installer arrived on time, explained what he would do, and cheerfully set about his work, despite the glaring sun. I was most impressed that he was careful to leave no marks on my freshly painted attic access panel. He also helped me get the closet shelf and rod reinstalled after his attic work was complete. All in all, excellent service with a personal touch. And the ventilation in my house and garage is much improved, too!" – Bothell, WA, 5-Star Yelp Review.
"Cornerstone was great. They squeezed me in for an emergency Repair and then were able to get to my full Re-Roof sooner than expected. I will gladly refer them to friends in the future."